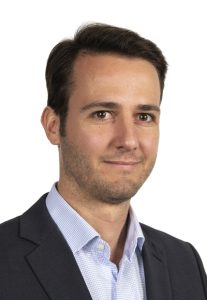 Antoine JOYAUX
Antoine joined Thea Open Innovation as Market Business Analyst in November 2020. He is currently Business Development Manager to support TOI in extending its relations with external partners.
Antoine started his international career within Sanofi, first as Business Development Analyst for the Global Diabetes Business Unit prior to work as Deputy of the Adriatic's General Manager. In 2016, he joined the Institut de la Vision, a European Academic Research organization in Ophthalmology, as industrial partnerships manager to ease translational research with the Industry. After 3 years, Antoine joined Genfit a public traded biotech Company (NASDAQ & Euronext) as commercial development project leader, to help in coordinating products launches targeting liver diseases for the US and European markets.
Antoine holds a master's degree in Biodrugs engineering from Grenoble's University of Pharmacy completed with a Junior MBA in Management in Biopharmaceutical Industry from ESCP Business school.